A Perfect Combination.
The BroadSoft BroadWorks platform gives you powerful tools to manage your communications. You can control how and when you receive calls, ensuring you never miss a call and your caller's experience is always the best.




With Attaché, BroadWorks's advanced Call Control features are finally available to Apple Mac OS X users. ECG has unleashed the full power of BroadWorks for Mac users in a simple, elegant tool.

One-click Control.
Dial directly from the Address Book. Answer calls in one click. Configure or enable remote office, Simultaneous Ring, Do-Not-Disturb, and Call Forwarding. Join two calls into a conference with one click. Or transfer a call with ease. Managing calls on the Mac has never been easier.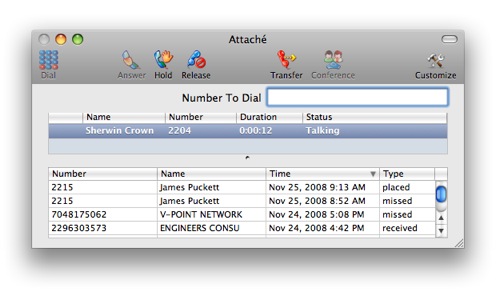 Attaché shows you just what you need to be effective. The clean interface makes it easy to dial, answer, disconnect, transfer, send calls to voicemail, or create conferences. See the name and number of every caller. View your previous calls (placed, received, or missed). Make the phone work for your style.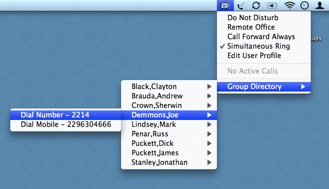 The whole team, in one place.
Say good-bye to the old office phone list: Attaché integrates with your BroadWorks group so you automatically have access to your whole team.


Heads Up.
Growl
show incoming calls with beautiful style. Personalize the look of notifications. Replace your phone's ringer with any sound on your Mac. Make
Group Call Pickup
even better by distributing your call notifications to your colleagues.

Keep Focus.
Manage every call from Attaché's elegant Status Menu interface. Stay focused on your work without switching to a new application. And manage your inbound call control --
Do Not Disturb
,
Remote Office
,
Call Forwarding
, and
Simultaneous Ring
-- in two clicks.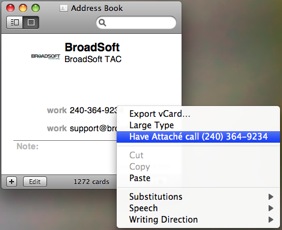 Dialing is so last year.
Make Address Book do the work for you. Place calls directly from Address Book, so you never have to manually dial a number again.


"Attaché, get me the President."
Attaché is AppleScript compatible, so you can dial from any application. Dial by voice using Mac OS X's Voice Recognition technology. Or program iCal to call you when the conference call is to begin. The possibilities are endless.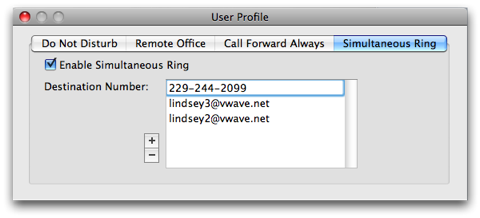 "One Number Will Reach Me."
With BroadSoft's advanced mobility features, your BroadWorks VoIP number can be your
One Number.
Customizing your calling settings has never been simpler. Attaché's
User Profile
tool lets you control how calls reach you.
Simultaneous Ring
lets you ring several phones (or any VoIP device) whenever you get a call.
Call Forward Always
forwards all calls to another phone, and optionally splashes a ring on your primary phone. With
Remote Office
you can receive all calls away from your desk, and place outgoing calls from that location as well -- all without revealing your current position. And use
Do Not Disturb
to protect your time for focused creative work.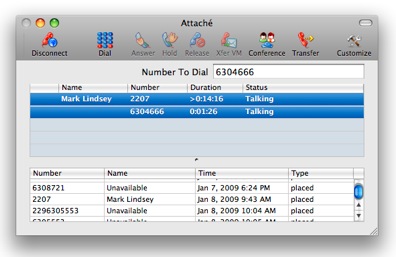 Sure, I'll add him into the call.
Conferencing has never been easier. Attaché makes it a breeze to add a new participant to your current call, so you can share ideas. Any two calls can be conferenced together: just by selecting both, and click Conference.



System Requirements.
Attaché was built from the ground up in Cocoa, the native language of Mac OS X. You get elegant integration. It runs on any Intel or PowerPC Apple running Mac OS X 10.5 or higher. You'll also need a User ID with a BroadWorks-based service provider.


VoIP Expertise Built In.
Attaché is by
ECG
, the leading VoIP Design and Systems Integration firm in the US, Canada, and the Caribbean. ECG has provided design and training for many of the world's leading VoIP service providers. Attaché was built by network designers who understand the complexities of web servers, clients, IP networks, security, QoS, and reliability in Service Provider networks. With decades of IP Network Design, VoIP, BroadWorks and Software Development expertise on staff, and hundreds of system deployments, ECG provides network design, troubleshooting, training and custom software development for any service provider.

Built For Service Providers.
Attaché is easy to deploy, and easy to support. Since it uses the same BroadWorks protocols (CAP, OCI-P) used by existing BroadWorks Client Applications, BroadWorks service providers are ready to deploy it today. Attaché can be customized and branded for any service provider to match your existing corporate image.